Welcome to New Beginnings Net Church!
"David & Grace Ziegler"
- Services now on Facebook and YouTube -
"Come Home... All Is Forgiven!"
"An OnLine Community Church"

A new experience in church services has been created for you to participate with via the Internet. During these services you will be able to interact with our Internet Pastors via real-time chat rooms with questions or comments. By clicking under the "Countdown Clock" below on the "Live video here!" link, you can join these "live" and interactive services on Sunday mornings at 10:00 AM (CST) when we webcast Praise & Worship or a few minutes later at 10:30 to 10:45 AM (CST) to catch the start of the sermon. To view previously recorded services, click the Sermons Tab above. Also rebroadcast on 103.7 FM the following Sunday.
NOTE: Due to the overwhelming number of people watching church online, we keep exceeding the bandwidth, so our service webcast is frequently broken up or totally stopped. Please keep trying, the service provider is getting better every week. You can also find the service live on Facebook or Youtube at:

https://www.facebook.com/morris.s.angelo?epa=SEARCH_BOX

or

https://www.youtube.com/feed/library

So please keep trying.
---
---
Upcoming events
- 12/04/2022 - Today Pastor Morris may still be out of town so we will have friends of the church, David & Grace Ziegler, who will deliver a special message, title TBD. The service will also be recorded and archived for later online/on-demand viewing and/or listening.
---
NOTES:
1. Services are also available online from our archives. One can access all videos and audio archives from the "Sermon-Media" tab at the top of the page.
Please let us know what you think about our website and any of its content. Email us at
"
[email protected]

.com

"
---
---
NEWS:
1. If you're considering a 21 Day Fast, testimonies from our last fast might be worth watching or listening to. The link is: https://stream.streamingchurch.tv/stream.php?churchid=church3905&notes_id=61160.
2. "The copyrighted music included in our service is being webcast/broadcast under the authority of the Christian Copyright Licensing International, CCLI Streaming and Podcasting license #CSPL053269 and CCLI Church license #1714708 issued to New Beginnings Church, who's web presence goes by the name of New Beginnings Net Church."
---
NOTE: The countdown clock shows the time until the next live service even if a "Live" service is in progress. Due to technical issues, the "Live" service is no longer available on our website but an audio and video of that service is uploaded later that same day and is available to watch/listen or download.
Media Archives:
"Video here!" - "Audio-only here!"
---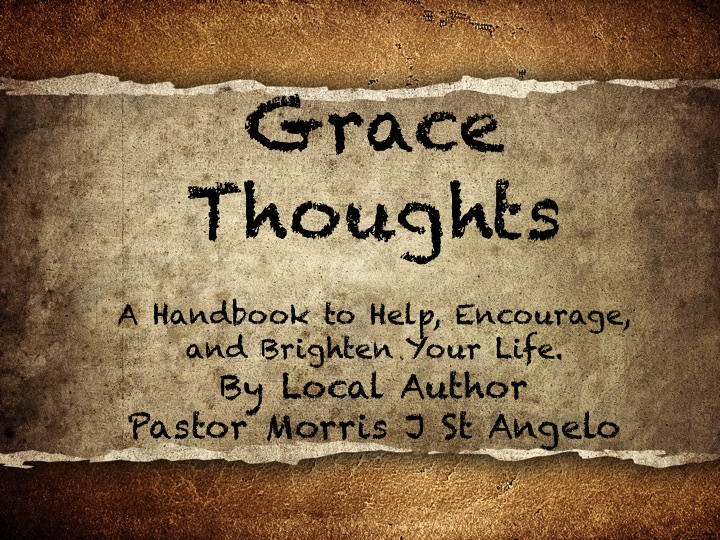 "Grace Thoughts" is a new book written by Pastor Morris. It is a collection of writings indexed by Topic and Scripture reference. Each article tells a story or uses an illustration based on biblical principles to Help, Encourage and Brighten your life. Click on the book cover to the left to purchase the book. You can find details about the book by clicking here. The book is also avaiailable on Amazion in printer or Kindle form. Look at what others have said about the book:
Morris's new book, Grace Thoughts, is a welcomed and needed addition to the growing library of "grace truths" being published today." Clark Whitten - Author of Pure Grace; Lead Pastor Grace Church; Greater Orlando, Florida
What a great idea for a book! "Grace Thoughts" is a compilation of spiritual and practical writings from the pen of Morris St. Angelo. Rick Manis - Author and Speaker; Rick Manis Ministries; Winter Gardens, Florida
Need a great book on business, Love, relationships, being a man, dealing with disaster and joy? This is it. I've witnessed Jesus in real life with Morris. Now you can too. Enjoy! Arthur Knapp; Business Associate and Friend; Orlando, Florida
---

---
>>> Check out the video of Pastor Morris giving his testimony, Rescue in River, in 1996 of how God miraculously delivered him after a boating accidient that almost took his life and did take his arm:
---
NOTE - Regarding Prayer Requests: If you are a non-member and have a prayer request, since our "Prayer Board" is members only, feel free to email any prayer requests or questions/comments to "[email protected]" or "[email protected]".
---
We make it a practice to NOT charge for spreading the Good News about Jesus Christ. However, we do have expenses and would be honored if you decided to help us with those expenses by mail to the address below or via the online "Donate" button at the top of the page.
---
New Beginnings Church - 330 Robert Blvd., Slidell, LA 70458 - (985) 781-4663
Contact us by email at: [email protected]
---

Daily Bible Verse
12/3/2022
A psalm of David. Bless the LORD, who is my rock. He gives me strength for war and skill for battle. He is my loving ally and my fortress, my tower of safety, my deliverer. He stands before me as a shield, and I take refuge in him. He subdues the nations under me. Psalm 144:1-2 NLT
Powered by MyFlock © 2022
Banner Artwork © Copyright PRAETER DESIGN